Chester Hill is a Brand New development ready for Occupation. Consist of 20 units of 4 bedroomed concept and self contained DSQ in a fast upcoming area of Athi river – off the Mombasa highway and ideally located near the SGR station , Safaricom Mall and minutes away from JKIA and environs.
The Residential is close to Social amenities, schools and business hubs. Only meters away from the upcoming Safaricom mall, It provides for a spirited wholesome living environment with salient features that make Chester Hill that little bit exquisitely pleasurable.
Why Chester Hill?

Its modern and contemporary designs, with high end finishes will definitely age well with time.
Its spacious drive ways and gardens, are a breath of fresh air from the usual mass production developments.
The rate of development in the particular sector of Chester Hill is booming with upcoming malls, schools and new highways.
The development is 100% complete and ready for occupation hence what you see is what you get.
Most importantly, Town Houses have a strong capital appreciation unlike apartments.
Moreover the below features of each unit at Chester Hill provides for a spirited wholesome living.
4 bedroom maisonettes with master bedroom en-suite.
Ensuite  DSQ
Private gardens and parking for two cars
Electric fence and Perimeter
Concrete paved roads
Take advantage of our introductory offer of Ksh 13M
Purchase arrangements:
Standard 90 day sale agreement:
10% deposit upon signing of Letter Of Offer (LOO)
Balance upon completion documents within 90 days.
Structured Payment plans:
We have flexible payment plans of up to 12 months for cash buyers who require structured payments.
Mortgage Purchase:
In junction with our mortgage partners, we offer mortgages of up to 25 years, at 105%
Location:The development is located in the fast upcoming area of Athi river. A particularly good network of transport due to the proximity of Mombasa road and the newly constructed By-pass connecting Thika road and Langata road. It is minutes away from the train station and JKIA.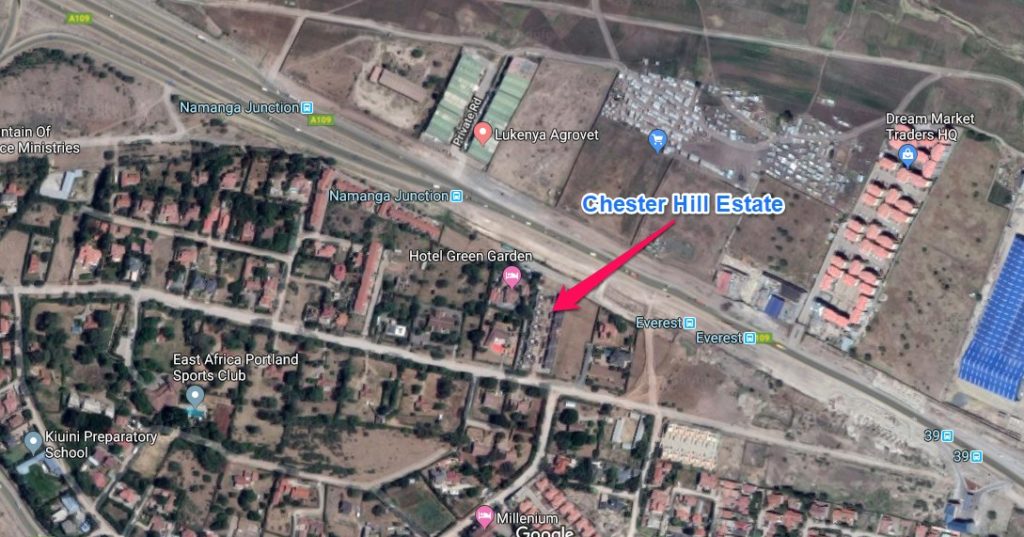 About Athi River
Athi River is a town outside Nairobi, Kenya in Machakos County. It is also known as Mavoko. The town hosts Mavoko Municipal Council and headquarters of Mavoko division which is part of Machakos County and is relatively industrialized, with six cement factories located within its vicinity. The Daystar University has a campus in the town. The town is named after Athi, the first part of the Athi-Galana river system.
The Nairobi-Mombasa Highway cutting through Athi River makes the place efficiently accessible via both private and public means. In addition, the presence of Malls, Major Banks, Markets Places, etc make Athi River a Prime and convenient residential destination ideal for the family unit.
Neighbourhood
Nearby Schools:
Oak Tree School- 4.4 KM
Maarifa School- 4.2 KM
Athi River Secondary School- 6.3 KM
Abacus School- 6.7 KM
Marisha International School- 0.9 KM
Nearby Hospitals:
Aga Khan University Medical Centre- 4 KM
Athi River Shalom Community Hospital- 3.4 KM
Ministry of Health Athi River Health Centre- 4.8 KM
Tefran Community Nursing and Maternity- 5.8 KM
Scanlab Diagnostics Kitengela- 8.3 KM
Kitengela Health Centre- 8.4 KM
FHOK- Family Care Medical Centre- 8.4 KM
Sinai Hospital Kitengela- 9.2 KM
Kitengela Pona Service Hospital- 9.2 KM
St.Paul's Hospital- 9.4 KM
Getrude's Children's Hospital- 9.6 KM
Nairobi Women Hospital- 9.6 KM
Nearby Malls:
China Wu Yi Supermarket- 0.4 km
Crystal Rivers Safaricom Mall- 1.2 KM
Jasu Tower- 3.4 KM
Maasai Market- 8 KM
Nini Shopping Mall- 8.2 KM
Milele Centre- 8.4 KM
Kitengela Capital Centre- 8.4 KM
Mardadi Shopping Centre- 8.6 KM
Red Heron- 8.8 KM
Noonkopir Business Centre- 9 KM
Safaricom Crystal Rivers Mall
The Mall has been designed with security in mind and will offer 3 secured entrances onto the main retail level with adequate parking for 700 vehicles on the lower ground level and upper ground parking deck.
Business Center and Entertainment Zone comprises office space, Conference/ Exhibition facility and the entertainment zone comprising a Cinema, Games Zone and Casino will all be located on the top level.
The SGR Project
Athi River an industrial town situated in the East Southern part of Kenya's Capital city of Nairobi is poised to earn a place in the world map of infrastructure marvels that will come with the Mombasa-Nairobi Standard Gauge Railway (SGR) project currently under construction.
The town's population mainly derive their livelihoods from employment the cement, steel, aluminum and various other sorts of industries as well as small and medium business enterprises that dot the busy suburb.
Daystar University
Daystar is a Christian liberal arts university in Nairobi, Kenya. Daystar's original campus is close to Nairobi city Center, but there was no room to expand at that location. Therefore, in the last decade a new campus has been built at Athi River, south-east of the city, on the Mombasa Road.
Export Processing Zones
The Export Processing Zone presents the best opportunity for growth, development and wealth creation for your business ambitions. The attractive job opportunities causes a snow ball effect for other business opportunities because of the population growth.