Kingston Park is a development of 49 units of 4 bedroomed concept and self contained DSQ in a luscious picturesque area of Ruiru- off the Thika Superhighway and ideally located near the Northern and Eastern Bypass connecting CBD (20 min), JKIA (15 min) and Limuru Road (15 min).
It provides for a spirited wholesome living environment with salient features that will make your life in Kingston Park that little bit exquisitely pleasurable. Each unit comprises of 4 bed maisonette with ensuite dsq. Located in ruiru near NIBS. Sale price Ksh 13M. Construction ongoing and completion in April 2019.
Number Of units – 49
Completion – April 2019
Why Kingston Park?

Its modern and contemporary designs, with high end finishes will definitely age well with time.
Its spacious drive ways and gardens, are a breath of fresh air from the usual mass production developments..
Most importantly, stand alone maisonettes have a strong capital appreciation unlike semi detached town houses and apartments.
Moreover the below features of each unit at Kingston Park provides for a spirited wholesome living.
4 bedroom maisonettes with master bedroom en-suite.
Ensuite  DSQ
Private gardens and parking for two cars
Electric fence and Perimeter
Borehole
Concrete paved roads
Childrens playing ground
Take advantage of our introductory offer of Ksh 13M
Purchase arrangements:
Standard 90 day sale agreement:
10% deposit upon signing of Letter Of Offer (LOO)
Balance upon completion documents within 90 days.
Structured Payment plans:
We have flexible payment plans of up to 12 months for cash buyers who require structured payments.
Mortgage Purchase:
In junction with our mortgage partners, we offer mortgages of up to 25 years, at 105%
Site Map
Location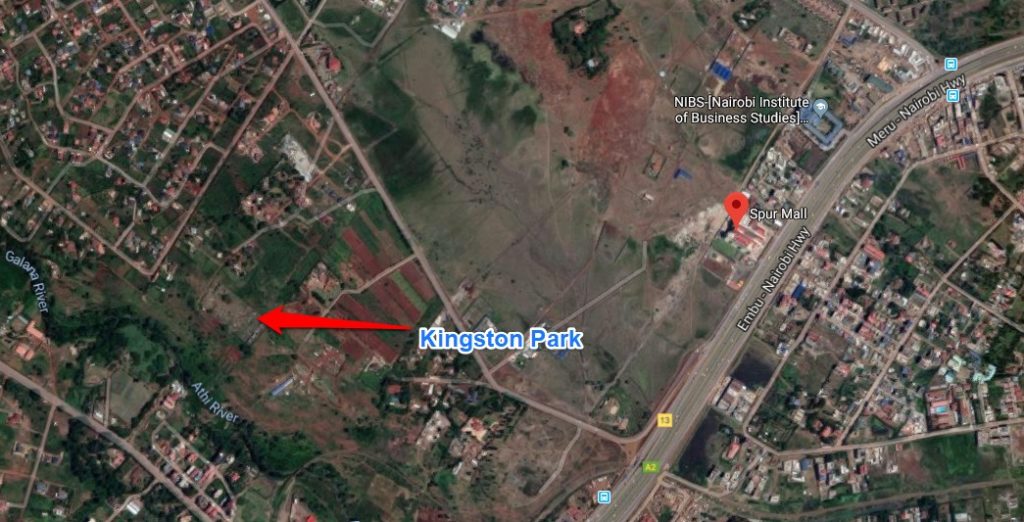 The development is located in the lush area of Ruiru providing a wholesome living environment. A particularly good road network due to the proximity to the Thika Superhighway. Call this is your home with pride – Kingston Park
About Ruiru
Ruiru is a town in the Kiambu County in Kenya. Located within 3 kilometres of Nairobi's city boundary and about 0.5 km from Kenyatta University Main Campus. Ruiru is a domrmitory town for the nation's capital, and is connected by both rail and road. The town covers an area of 292 km2 with Kahawa Wendani, Kahawa Sukari and Mwihoko being part of Ruiru constituency.
Ruiru is also an industrial town with several major factories, including Devki Steel Mills, Super Foam, Spinners & Spinners Garment Factory and Ruiru Feeds. It is well served by banks and shopping malls and currently is enjoying a housing boom, as many coffee estates are converted into residential areas, including an upcoming multi-billion Tatu Estate. ICT businesses are also emerging, including SmartEdge PASHA center, a digital village by the KICT board where the community can buy computers and get free computer training. In brief below factors make Ruiru a convenient residential destination ideal for the family unit.
Accessibility- From Ruiru, you can reach the Nairobi Central Business District using the Thika Superhighway within 20-30 minutes or alternatively link to Juja, Thika and other counties such as Murangá, Kirinyaga and Nyeri. Going to Mombasa or flying out? Ruiru boasts of such convenience, you can easily get to the Jomo Kenyatta International Airport and Mombasa Road via the Eastern By-pass.To get to Limuru Road and areas such as Ruaka, you have the Northern By-pass at Membley, Ruiru
Amenities are within reach-Ruiru boasts of a wide range of schools including universities such as Zetech, Kenyatta University and NIBS in close proximity. For leisure and weekend getaways, you can visit the Rainbow Hotel, Kamakis restaurants located along the Eastern By-pass, and BTL Christian Conference Centre in Membley Area. The Ruiru town has several banks to take care of your financial needs and supermarkets to access basic house necessities. Soon enough, you will be able to enjoy a one-stop shopping experience with the opening of the KU Unicity Mall and the Spur Mall at Ruiru, Kimbo.
Nearby Schools:
Ruiru Peak Academy Primary School- 6.1 KM
Jackridge Primary School- 6.8 KM
Ruiru Progressive Primary School- 7.3 KM
Shakaina School-7 KM
Ruiru Girls Secondary School- 4.9 KM
Kenyatta University Ruiru Campus- 4.2 KM
Nairobi Institute of Business Studies- 5.4 KM
Zetech University- 6.5 KM
Nearby Hospitals:
Shikamoo Medical Centre- 3.5 KM
Kalimoni Mission Hospital- 3.7 KM
Ruiru Health Centre- 3.8 KM
Plainsview Hospital- 3.8 KM
Transcon Wendo Hospital Ruiru- 4.6 KM
Nazareth Hospital- 4.8 KM
Jacaranda Health Centre- 5.4 KM
Spa Nursing Home- 7.3 KM
Lifeline Group of Hospitals- Membley- 8.2 KM
Nearby Malls:
Sherrykangs 1st Store Ruiru- 3KM
Jukez Smart Enterprises- 3.1 KM
Kabuku Shopping Centre- 3.2 KM
Dicii Supermarket- 3.8 KM
Spur mall- 5.7 KM
Toll Station Shopping Centre- 5.9 KM
Rolex Centre- 6.4 KM
Wataalam- 6.7 KM
Unicity Mall- 7.4 KM
Ebenezer Shopping Centre- 7.5 KM
Wageegee- 7.9 KM
Spurs Mall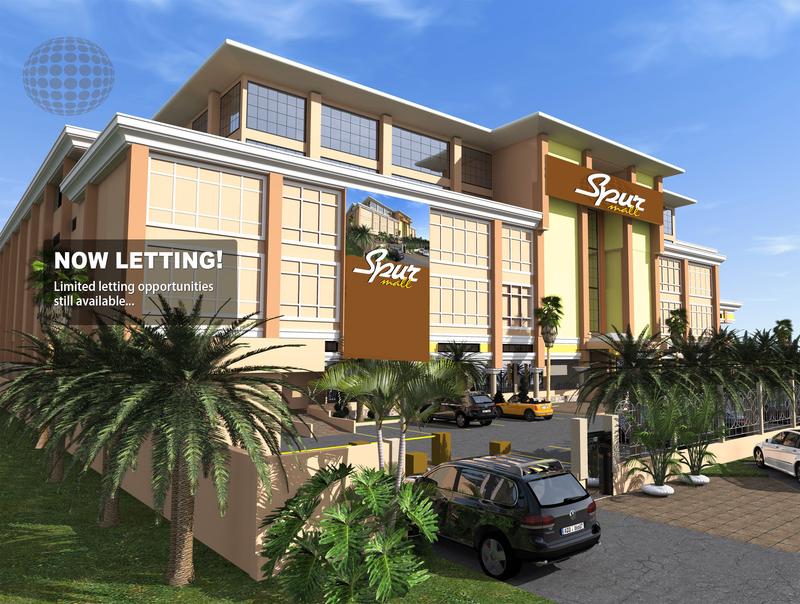 Spur Shopping Mall is easily accessible from the city Center, at exit 12 along Ruiru Thika Superhighway and Ruiru dormitory environs as well as for the "on Transit" to greater Central, Eastern and North-Eastern Provinces. It is located 12KM from Nairobi along Thika Super Highway in Ruiru town. It is the hub where fashion and style meets choice while function and promises are the heartbeat of Ruiru Town.
NIBS College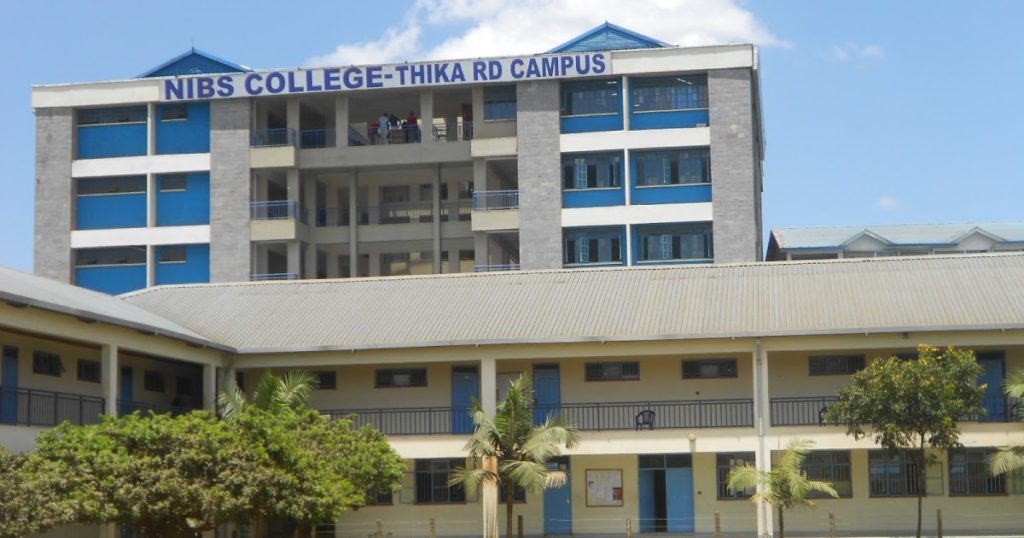 Incorporated on 19 March 1999 under companies Act (Cap 486) Nairobi Institute of Business Studies (NIBS) is a reputable private tertiary training institution. It is a registered institution of higher learning by the Ministry of Higher Education, Science and Technology (MOHEST), to train in Certificate, Diploma and Advanced Diploma Programmes in Business Studies, Accountancy, Information Technology, Journalism & Mass Communication, Legal Studies, Secretarial studies and Community Development & Social Work.
Utilities- Residents in the area are served by water from the Ruiru- Juja Water & Sewerage Company as well as CDF-funded community borehole water projects. To address the influx of the population, the county government of Kiambu has commenced plans for a sewerage system to cater for sewage disposal. The area is well secured with the presence of various police posts and the main police station in Ruiru town. In newer estates, residents have employed the gated community concept with boundary walls and a single-manned gate to control entrance.
Serene Environment- Previously a coffee farm, Ruiru has a tranquil environment ideal for a home. It also has a rural feel allowing you to keep animals, grow vegetables or even have a fish pond, something you would not easily do in urban centers in Nairobi.